Our Drinks
We are very proud of our real-ale offering with a huge variety and range of guest beers to suit all palettes. We are well known to CAMRA both regionally and nationally and local real-ale enthusiasts. Please keep an eye on things here for the changing menu of real ales, cider, perries as well as the comprehensive range of lagers and wines.
Permanent Ales, Lagers, Ciders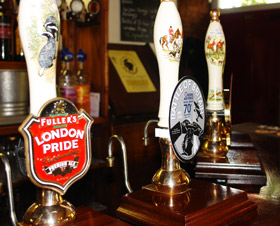 Youngs 3.7 ABV
London Pride 4.1 ABV
Whitbread Best 3.5 ABV
Kronenbourg 5.1 ABV
Stella 4 4.0 ABV
Guinness 4.1 ABV
We are well known of our ever changing Real Ales as well as a fruity selection of drawn Cider and Perry.
We also have an exciting range of expertly sourced Wines to enjoy, too.
BEERS COMING ON AT THE RED LION
Oakham
Dreamcatcher, 6.9 ABV
Hopback
Spring Zing, 4.2 ABV
Orkney
Raven Ale, 3.8 ABV
Buntingford
Hedgehog, 4.3 ABV
Deansbury
Partner's Blonde, 3.9 ABV
Naylor's
Aire Valley Bitter, 3.8 ABV
Mighty Oak
Whuppity Scoorie, 4.2 ABV
Maldonado Gold, 3.9 ABV
Oscar Wilde, 3.9 ABV
Newby Wyke
Roundel - 3.9 ABV
Red Squirrel
Ruby Mild, 3.7 ABV
Thornbridge
Jaipur IPA, 5.9 ABV