A VERY WARM WELCOME AT THE RED LION, PRESTON
Please keep eyes posted here and on our Facebook page for upcoming events. Now on #Twitter too!  @RedLionPreston
CAMRA NORTH HERTS 2014 – RUNNER UP, PUB OF THE YEAR.
Our Congratulations to THE HALF MOON, HITCHIN FOR CAMRA 2014 – PUB OF THE YEAR.
The pub is the heart of Preston's community and stands proudly as the first example of a community-owned public house anywhere in the UK. The pub still stands today as a thriving community enterprise over 25 years after the venture was originally started; an accomplishment we are all very proud of.


Ray & Jo Lambe have created a hugely welcoming and relaxed atmosphere,  serving a wide range of ever-changing and award-winning ales, wines and spirits as well as an outstanding menu of fresh, locally sourced dishes.
The Red Lion, Preston - voted The Good Pub Guide - Value Pub Of  The Year 2014
"With its interesting choice from hearty pub staples to imaginative vegetarian, fish and game, The Red Lion at Preston - which was the very first of the UK's community-owned pubs - is Value Pub Of The Year. This is a homely village local with changing beers, fair-priced food and neat colourful garden"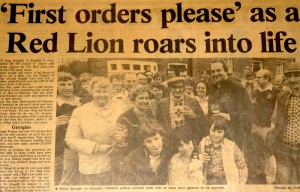 Upcoming Events

Friday 22nd - 8pm

THE PERSUADERS - LIVE! Classic Rock Anthem Covers from the 70's onwards....
SEE What's On page for more...